Tremor Beneath the Sea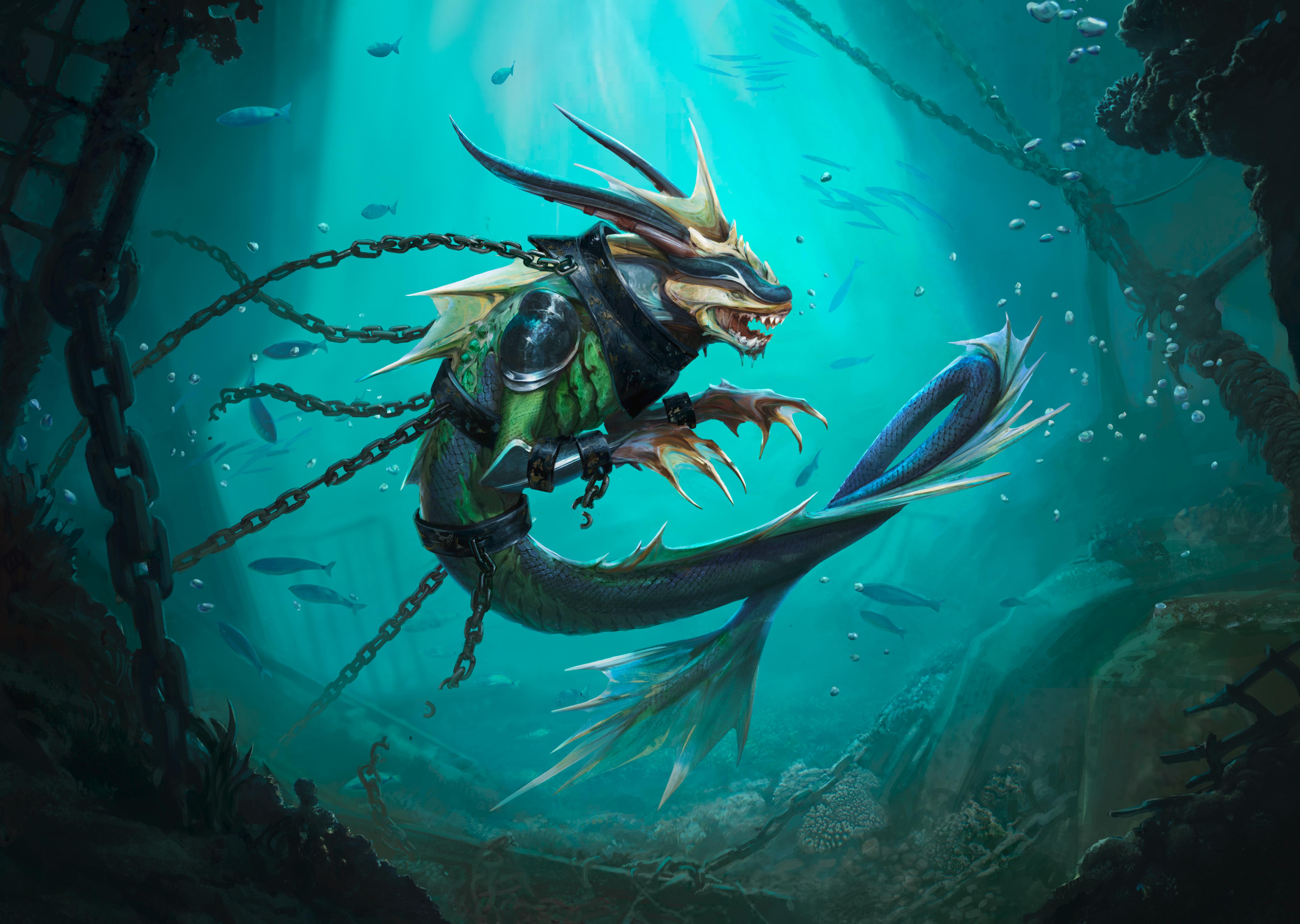 Even shackled in the deepest trenches, Tiallos shakes the earth with its thrashing.
Power of seismic proportions pulses through the slender body of Tiallos. It upheaves the seafloor into fantastical new shapes, creating islands and trenches and calderas wherever it travels. There was even a time when it was said that Atlas itself was one of Tiallos' creations.
However, as the non-dragons settled and built and fought over the land that Tiallos shaped, Tiallos went from revered to reviled. No longer could Tiallos shape the earth as it pleased, as there was always uproar that the dragon was favoring one faction or another, or that Tiallos would one day callously take away all the nations had built for themselves with a single tremor. Eventually, several budding nations agreed to cease squabbling over territory long enough to capture and imprison Tiallos. They chained Tiallos in the deepest trench of its own making, so tightly and so far that its most desperate cries for help were felt only as ripples on the sea, or a quiver in the earth.
Legendary Earth Invoker
Spells
INVOKE: Abyss - Passive | Yellow | 0 Rage
Deals 2500% of dragon's attack power as damage to all towers in a small target area.
CURRENT - Active | Blue | 1 Rage
Dragon cloaks and slows down to 25% of its flying speed. Duration: 2.5s, Cooldown: 1s.
Cycles between 1 use of Islandmaker and 1 use of Islandmaker: Unchained.
ISLANDMAKER - Active | White | 1 Rage
Freezes nearby towers for 4 seconds and makes tower take 100% more damage from all sources. After one use, enables a cast of Unchained version. Duration: 0, Cooldown: 3s.
ISLANDMAKER: UNCHAINED - Active | White | 1 Rage
Afflicts all nearby towers with a damage over time effect for 6% of the dragon's HP dealt each second for 6 seconds. Cooldown: 3s.
TSUNAMI - Active | Red | 1 Rage
Grants 2 rage on casting. The dragon deals 15% of its maximum HP in damage to nearby towers and restores 15% of its maximum HP. Grants 0.5 seconds of invincibility. Cooldown: 5s
Runes and Glyphs
Design Intent and Strategy:
Much like how an unexpected earthquake can cause a chain reaction of natural disasters, Tiallos patiently leaves many towers intact until knocking them down like dominoes.
A majority of Tiallos's power lies in widespread Area of Effect attacks that can debilitate entire islands at a time. The most straightforward of these is Tsunami, which will both damage all towers around Tiallos and heal the dragon. On top of that, Tsunami provides a net gain in rage, helping to fuel the rest of Tiallos's spell sequence.
The climax of this sequence is Islandmaker. Each cast of this spell alternates between Islandmaker's chained and Unchained form. On its first cast, Islandmaker will freeze all nearby towers on the island for a short duration. This helps protect Tiallos from aggression that it would otherwise have a difficult time recovering from. Towers affected will also become more vulnerable to damage from all sources. This is particularly important on the following cast of Islandmaker: Unchained. This empowered version of Islandmaker will deal massive damage over time to all nearby towers in addition to making them more vulnerable to damage. If triggered successfully, the damage from Islandmaker: Unchained can take out several towers at once.
While the overall damage potential of this combo is high, Tiallos needs the help of its other spells to pull it off. The most important of these is its invoker ability, Invoke: Abyss. This will let it immediately destroy towers in a small area. This is Tiallos's only reliable form of single target damage, so it is absolutely necessary to prioritize targets that can interfere with Tiallos's other spells, like Mage Towers and shielding towers. Like most Invokers, Tiallos is most vulnerable while reloading, so its final spell, Current, will allow it to bide its time until it can take out another target.
The best thing one can do to fly Tiallos well is find ways to maximize its damage output - between Current and the freezing effect of Islandmaker, Tiallos's defenses are difficult to break. But if Tsunami or Islandmaker: Unchained fails to land, then Tiallos may not be able to destroy towers fast enough to prevent itself from being overwhelmed.
Even compared to the other inmates of the Ancient Prison, Tiallos has endured a particularly isolating imprisonment. Chained to the ocean floor, Tiallos writhed and roared begging for release, but though its pleas shook the earth, no one would descend to free it.
Portrait: