Masterpiece Dragon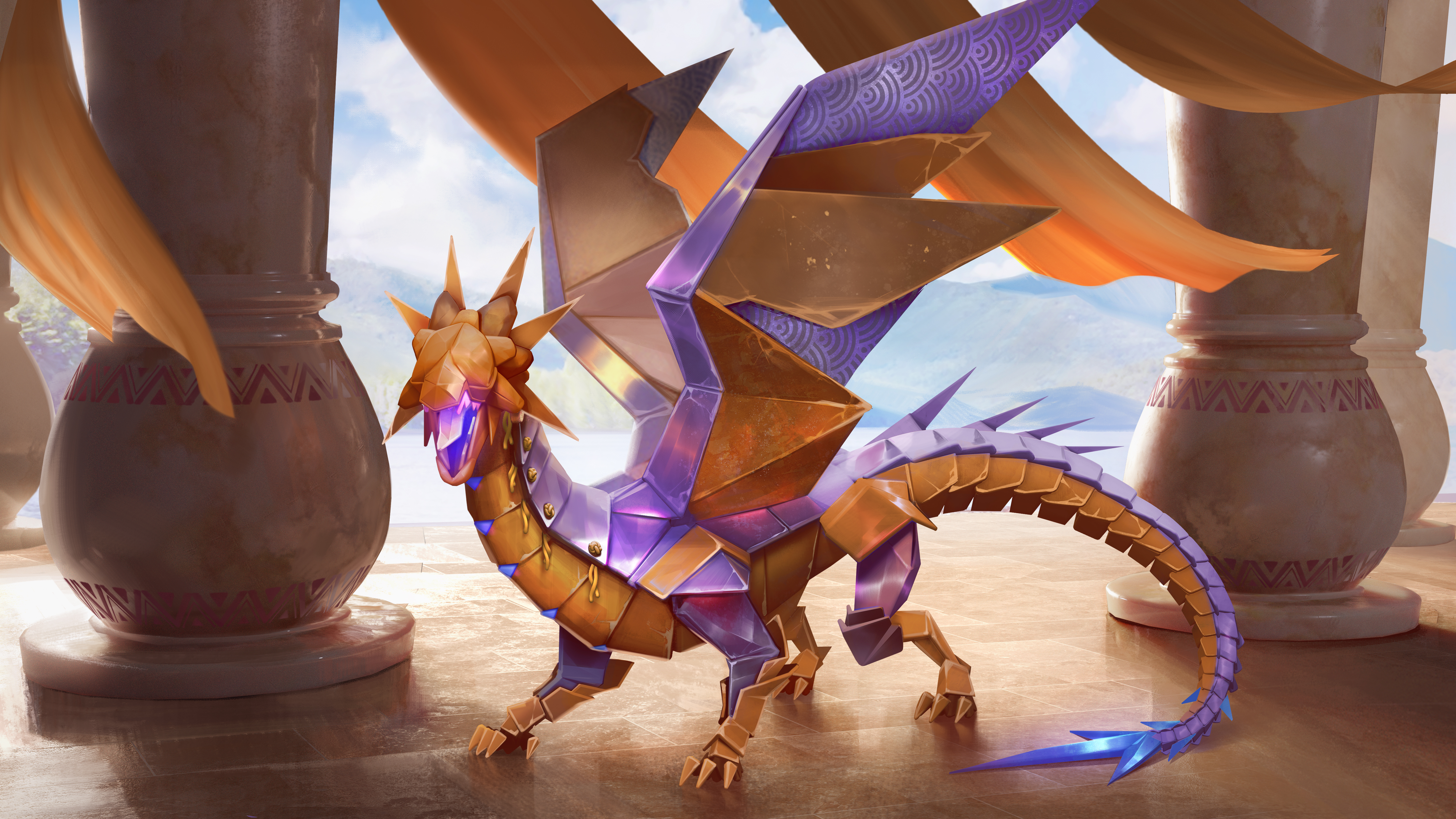 Perfection to the very last detail.
Before we get started, read this post on the War Dragons Forums to learn more about how to Breed Artisan Tier dragons.
Charpent, Quilleth, Washi and Narmak released at a cost of 1,875 Egg Fragments per Dragon. Each Dragon is able to be incubated at incubator Level 19 and Player Level 520. Tier 19 Dragons can be maxed out as Legendary at Dragon Level 40, Dragons Den Level 145, and player Level 535.
Note: the numbers above are for the Legendary evolution form of the dragon. We will release the Mythic evolution numbers later.
Long ago, the wealthiest merchant in Atlas sought out the famous paper artisan, Washi. The merchant challenged Washi to create a perfect origami dragon… the prize? Anything Washi desired. Washi worked day and night for one year finding the most immaculate and magical materials from all corners of Atlas to create her masterpiece.
Once Washi finished, she presented it to the merchant, smiled, and promptly died on the spot from exertion. Washi's spirit, unwilling to part from her creation, entered the paper dragon and flew off into the night.
Fire Sorcerer
Spells
MASTERPIECE - Passive | Yellow
Increase base breath damage by (500)% and increases maximum targets to (5).
MAGIC PAPER - Active | White | 1 Rage | 0s Cooldown
Freezes all nearby towers for (1) second.
BRAINSTORM - Active | White | 1 Rage | 4s Cooldown
Damages target tower for (80)% of dragon's modified HP. Effect bounces to 2 random nearby towers, dealing (100)% damage.
ARTFUL TOMB - Active | White | 1 Rage | 0s Cooldown | 12 radius
Affected take (80)% increased damage. Casting Artful Tomb again on the affected towers will destroy them immediately.
ARTFUL TOMB - Active | Red | 4s Cooldown | 2 radius
Upon casting, dragon restores (1) rage. Affected take (80)% increased damage. Casting Artful Tomb again on the affected towers will destroy them immediately.
Design Intent
Washi is a sorcerer dragon that excels in large area damage and control.
Thanks to its passive, Masterpiece, Washi is the first sorcerer with the power to lock onto five towers with each volley of breath attacks.
Masterpiece also empowers the breath attacks to be far more devastating and slightly faster than all other sorcerer dragons.
For high priority target removal, Washi can cast Brainstorm, a spell that deals explosive damage to the first target it strikes, and then bounces to two additional towers for the same damage.
To ensure that Brainstorm destroys anything it touches, try combining it with Washis third spell, Artful Tomb. Any towers in the large targeted area of Artful Tomb will take massively increased damage for the rest of the battle. After weakening the tower's defenses with Artful Tomb, Washi's Brainstorm is sure to kill, and with a little luck, it might bounce to another weakened tower as well. Towers affected by Artful Tomb take increased damage from all sources, so the dragons Masterpiece empowered Volleys will also become far more threatening. Artful tomb can be cast a second time and will grant Washi one rage, however the second cast has a much smaller area of effect and does not cause it's targets to take increased damage. If a tower already affected by Artful Tomb is hit by the spell again, it will be instantly destroyed.
For defenses Washi must rely solely on Magic Paper. Magic Paper freezes all nearby towers, blasting any mid-air projectiles from the sky. Control the battlefield with Washi and terrorize your enemies with unending volleys of fire.