Crafty Collector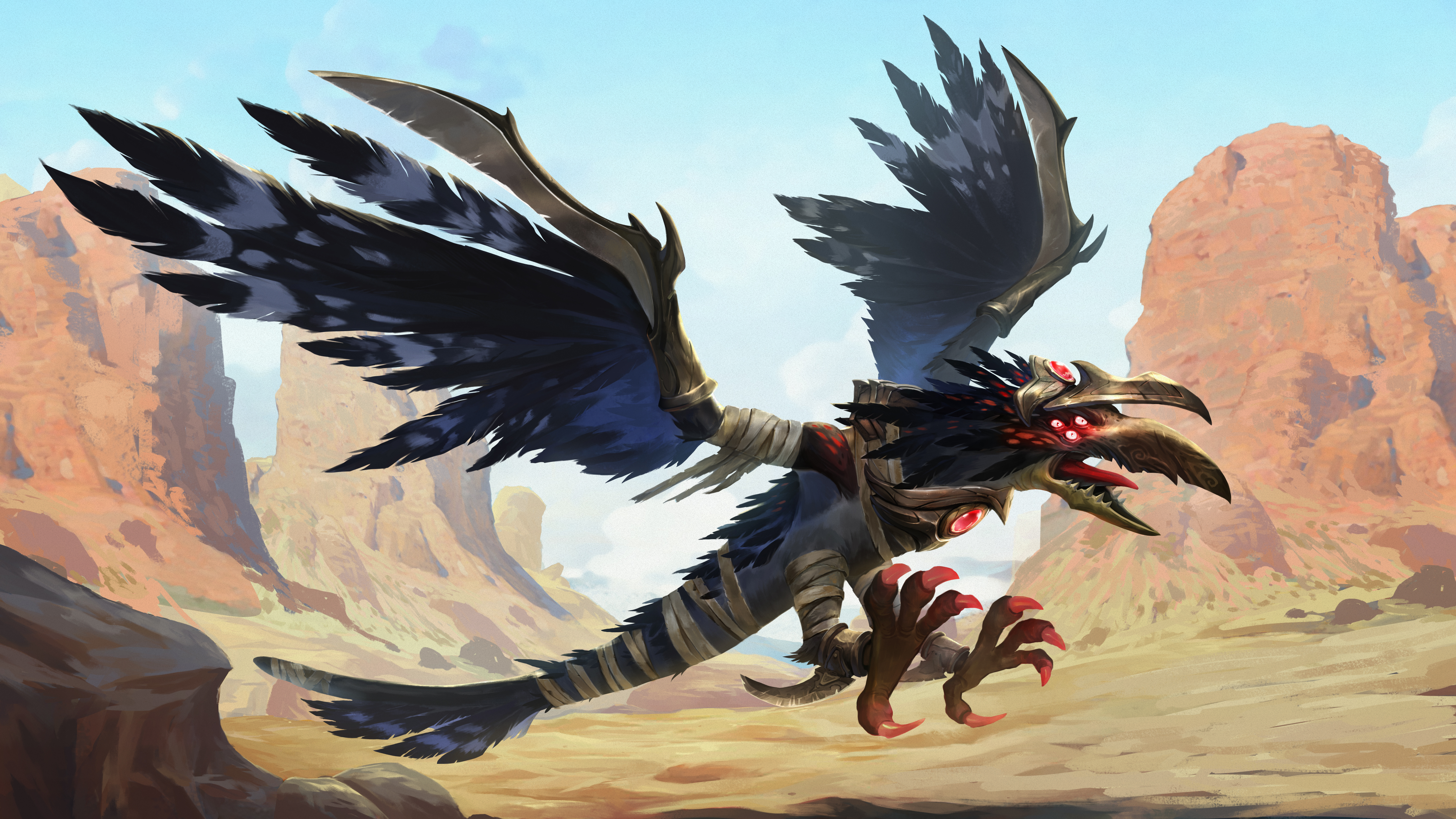 Cleverness to overcome adversity.
Before we get started, read this post on the War Dragons Forums to learn more about how to Breed Artisan Tier dragons.
Charpent, Quilleth, Washi and Narmak released at a cost of 1,875 Egg Fragments per Dragon. Each Dragon is able to be incubated at incubator Level 19 and Player Level 520. Tier 19 Dragons can be maxed out as Legendary at Dragon Level 40, Dragons Den Level 145, and player Level 535.
Note: the numbers above are for the Legendary evolution form of the dragon. We will release the Mythic evolution numbers later.
When you're as big as a draft horse and made of feathers, life in a world of violent, fire-breathing behemoths requires you to develop survival skills in a hurry. As you might expect, Quilleth is one of the finest survivors in the world of Atlas. In fact, Quilleth is so sure of his ability to get out of trouble, he can be found trolling far more dangerous dragons just to see if he can get away with it. Quilleth's favorite target is Asura, the Emberheart Drake. Villagers of the Glowing Cradle often hear a tiger's roar of annoyance followed by the cawing cackle of Quilleth as he hastily retreats from the dense jungle having stolen Asura's lunch.
Earth Hunter
Spells
SCRAPPY - Passive | Yellow
Increase base breath damage by (200)% and reduce ammo regen rate by (50)%.
FEATHER STORM - Active | Red | 2 Rage | 5s Cooldown
Dragon flies at (25)% of it's base speed, reloads all ammo and dodges all non-beam attacks for (4) seconds. Damages nearby towers for (6)% of dragon's
INKBLOT - Active | Blue | 0 Rage | 3s Cooldown
Dragon cloaks for (3) seconds and reloads all ammo. While cloaked, dragon flies at (25)% of normal speed. After cloak duration, damages nearby buildings for (10)% of dragon's modified HP. Damage doesn't remove tower-disabling effects.
RAPTOR DIVE - Active | Red | 1 Rage | 5s Cooldown
Dragon damages nearby towers for (12)% of its modified HP and gains (2) Rage. Dragon also restores (16)% of its modified HP and becomes invincible for (2) seconds.
Design Intent
Quilleth is a crafty hunter dragon that shines under the command of Dragon Lords who are skilled in ammo management. Injuries from a previous battle cause Quilleth to suffer reduced ammo regeneration speed. However, its passive ability, Scrappy, grants it double fireball breath damage in exchange. This powerful passive is the main weapon in Quilleths arsenal, with its spells mainly focusing on instant ammo refills to bypass its slow natural ammo regeneration speed. Feather Storm dodges all incoming projectiles and deals damage to surrounding towers. Casting Feather Storm also immediately refills all of Quilleth's ammo, allowing for an extended barrage of fireballs.
When caught in a tough spot Quilleth has two defensive spells at its disposal. It can cast Inkblot to cloak in a mist of ink and become untargetable. While hidden, Quilleth will fully reload its ammo, and at the end of the duration, Quilleth explodes from the ink, damaging nearby towers. Inkblot is a flexible spell that can be utilized for the ammo refill or for the safety of the cloak, depending on the situation.
The other option is to use Raptor Dive precisely when a powerful attack is about to strike, and shrug it off through the brief invincibility effect. In addition to the invincibility, Raptor Dive deals damage to all surrounding towers while also refilling Quilleth's health and rage resources. This spell is incredibly powerful but requires perfect timing to have the greatest impact on the battle. If cast early for just one of it's benefits, Quilleth may find it self in need of the others not long after.