Atlas Seasons functions very similarly to those in the main game! Players will be able to claim prizes, such as Primarch Buffs, Gear, and riders, from the season's branches by using Season Badges gained through PvP. 
How to Obtain Season Badges
Season Badges are obtained through Badge Chests, which are obtained by either participating in PvP where players are gaining glory or by purchasing the chests for Diamonds in the treasury.
Through PvP:

For every 1250 Glory earned by a player, they will receive 6 Atlas Badge Chests. When a player reaches 7500 Glory, they will receive a bonus 4 Atlas Badge Chests.

In the Treasury

Players can use diamonds to purchase Badge Chests in the Treasury. The chests can be purchase 1 at a time for 800 diamonds each or 10 at a time for 4000 diamonds. Contained with the chests are Season Badges in varying amounts.
Season Badges can only be used during the season they are attached to. For example, Duskfall Season Badges cannot be used during the Springblossom Season. 
Opening Seasonal Badge Chests in the Treasury
Claiming Prizes
Prizes can be claimed by clicking the Prizes tab down at the bottom and choosing the prize tree that you wish to claim under. Gear is broken up into Offensive and Defensive options while the Primarch buffs can be found under the "Primarchs" tab on the Seasons page.
Many prizes will have options for players to choose between what they would prefer to get. For example, all of the gear will give players the option to choose whether they would like to obtain gear of a specific element or crafting shards of a certain element. Choose carefully though as you cannot change your choice once you've made it!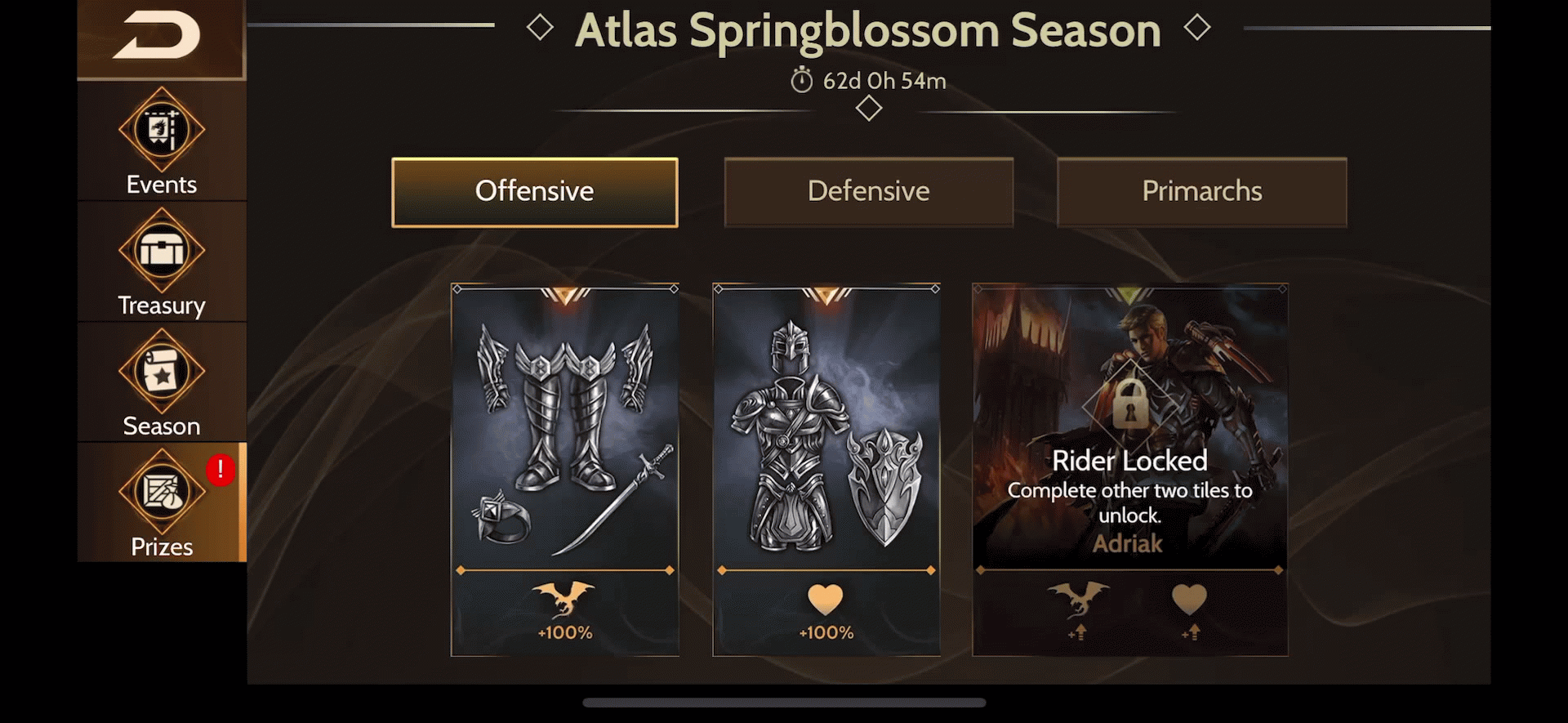 Selectable prizing in Seasonal lines.