Kingdom Wars Event General Information
What should be my team's goal during this event?
Your team's goal during this event is to conquer territories and expand your kingdom to be the largest across the map!
Can one team conquer all of another's and wipe them off the map?
No, no team can wipe another off of the map. Every team will maintain their capital even if the rest of their lands are conquered.
What is a Capital?
A capital is a landmark that every team begins the event with, and they serve as the individual starting point for each team. Capitals cannot be conquered by another team, meaning they are always in the possession of the team that begun the event with them.
Is my team's location on the map chosen at random?
Yes, every team's capital location is chosen at random. Every new time the event runs, teams will randomly be assigned a capital in any given location on the map. It's up to your team to decide what your best strategy to win will be.
Territory in the Kingdom
How does a team expand their Kingdom?
A team's kingdom will consist of all territories that are either directly connected to their capital or are connected through the team's other controlled territories. Expansion can occur by attacking territories that border your own and share a side with a piece of your territory. If a piece of your kingdom gets cut off from the rest, then you must reconnect it before further expansion from that lingering piece can continue.
How can my team conquer a territory?
Every territory has a certain amount of HP. The first team who does total damage equal to the HP of the territory claims that territory. Once a territory is claimed the HP of the territory is reset, and the territory can be attacked again.

Are there other landmarks that my team should be trying to make sure we conquer?
Yes, there are two other types of landmarks that help teams gain more points over time. Both major and minor monuments will grant teams more points over time than just having territory. A minor monument will be less available than the regular territories but more available than a major monument, yet a team should still be prepared for a lot of contention among teams for these landmarks. A major monument grants the most points to a team, but these will be the most contentious and hardest to conquer because few exist across the map.
Earning points in the Kingdom Wars Event
How can my team gain points?
Your team gains Victory Points (VP) over time for every territory that your team controls (including ones that get cut off from your kingdom). The point values are as follows:
Regular Territories - 10VP per hour

Minor Landmarks - 40VP per hour

Major Landmarks - 100VP per hour
How can I gain points for myself?
Individual points are earned by attacking other territories to try and conquer them. Players can earn more points through multipliers given by Super attacks (4x), Mega Attack (30x), or Inner Fires.
What are some basic strategies to keep in mind?
Teams can take two very different approaches which have their own positives and drawbacks with themselves. Quick expansion can get your team more monuments faster which lead to bigger scores over time; however, this method also leaves your team more vulnerable to having your kingdom separated. Slow, Steady Expansion means that a team will have less Victory Points generating over time because it will take them longer to reach any landmarks. Teams that take this approach will have an easier time defending and be less susceptible to conquering.
Attack orders and combat in the Kingdom Wars event
Will team leaders and officers be able to mark territories that they want their team to attack?
Yes, officers and leaders can mark territories that they want to conquer with an "attack order." Teammates will see a red skull hexagon on territories that have been marked.
How will I know what all of the icons mean?
Players can find a legend on the map in game as well as in the rules page in case they happen to forget what a given icon means. See below for the legend.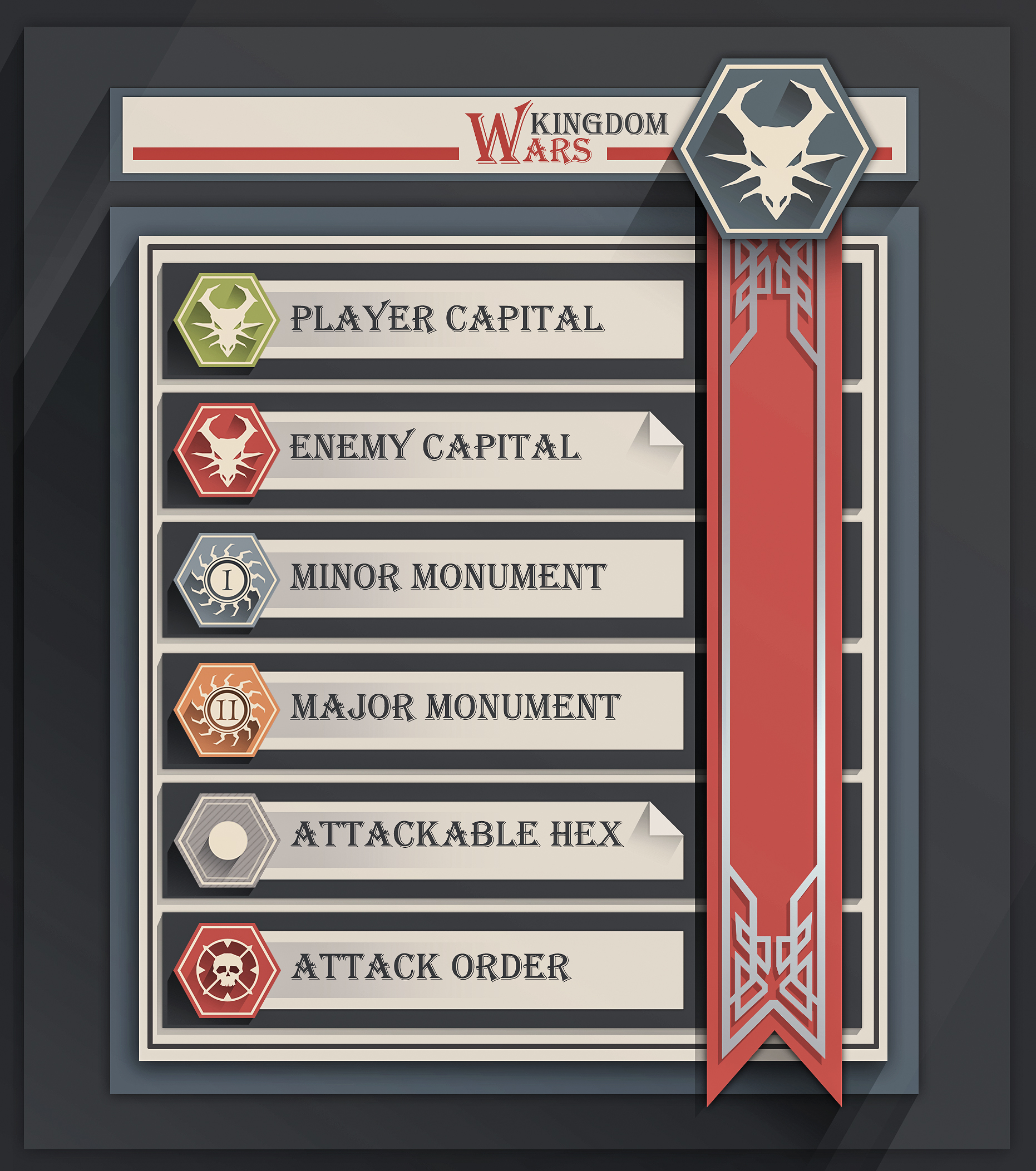 What Is An Underdog Multiplier?
Since many players reported that it was previously too easy for teams to run away with the lead, we wanted to give teams a chance to fight back and keep the event more competitive. Teams will receive a damage multiplier whenever they attack one of the leading enemy teams. The multiplier will be determined by the VP/hour discrepancy between the two teams.
Example: If a team with 100 VP/hour is attacking a team with 200 VP/hour, they will get a 1.1 point multiplier meaning they get both more individual points and deal more damage.
What Is An Under Attack Indicator?
We've heard from players that it can be difficult to know which territory is currently under attack during the event, so we've made some modifications that will help make things more visible. Whenever a team has has over 50% damage inflicted to one of their kingdom borders, the outline (border) of that territory will start pulsating in a distinct color. This will urge them to fight back and hopefully boost engagement.
What Is PVE Training Combat?
Teams will be able to 'train' for combat by attacking their own capital. When attacking your own capital you'll be able to select one of the Blackblood members to attack for limited points. This is specifically to address a case where a team gets surrounded by an enemy they cannot attack. Previously, those teams were effectively eliminated from the event, but now, they'll be able to gain individual points during the event, not matter how many territories they've conquered!
What Is Sub-League Team Prizing Benefits?
Kingdom Wars has done a great job upon launch to surface the issue of sandbagging within leagues. The way the map is visually laid out, it's easy to tell which teams have completely dominated the map and crushed their opponents. This caused us to think about the issue of team strength distribution across leagues. Sub-League Team Prizing will help benefit teams that strive to reach higher leagues and battle against equally powerful opponents, encouraging genuine progression and fair play.
Sub-League Team Prizing will first be available to those in Diamond 1 & 2 for now.
Raiding in the Kingdom Wars event
What is Raiding?
To unlock the ability to Raid on a target base, players must destroy their chosen base with 100% destruction, regardless of the amount of flames obtained. Once destroyed, a Raid button will appear next to this same base, and will open up the raiding interface. From here, players can choose to use an Inner Fire with each Raid (with a max of 1 Inner Fire per Raid) by checking off the "Raid with Inner Fire" box, earning double the amount of points for the run!
There will be a short 5 second cooldown period in between raids so that dragons can recover before raiding again. Don't want to raid? No problem! Any target base that's eligible for raiding can still be attacked as normal by tapping the Attack button.
Raiding Limits and Reset
Once a base has been fully destroyed and raids are unlocked, the act of raiding does not require Dragons to be flown nor Healing Potions to be used. Players can raid the same target base up to 5 times within the Raid Reset period. Each time a Raid is unlocked on a target base, a 6 hour timer will begin to count down. These 6 hours represent the Raid Reset period, and the countdown begins individually for each target base. At the end of every Reset period, the following will happen:
Previously raided bases must be unlocked to Raid once again by destroying the base with 100% destruction in a normal attack.

The amount of times a target base can be raided will reset to 5.
Raiding Energy Costs