Primarchs are the combat units in Atlas. Each Primarch type needs to be researched first in the Primarch Tech Tree. Once you've researched it, a Check Mark will indicate that it's eligible for summoning. Keep in mind that the Tech Tree is like a "spellbook"–you will need to summon a Primarch anew after researching a higher level Primarch to gain the benefits of the new increased stats.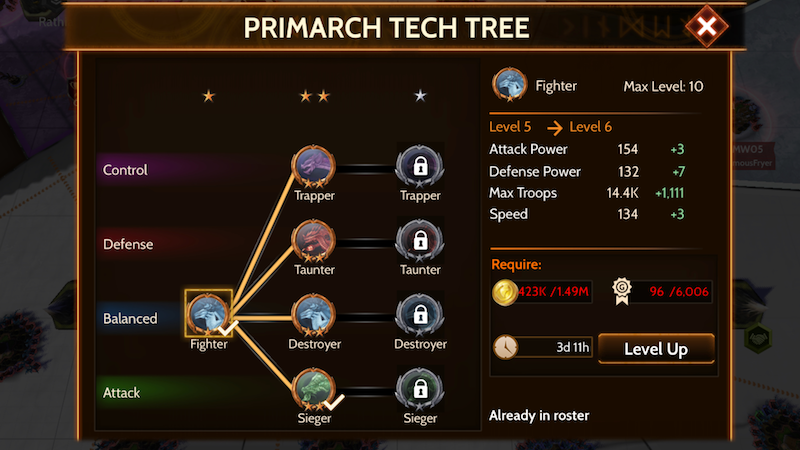 There are a few rules around Primarchs:
Only one Primarch of each type and Tier can be summoned at a time, so you cannot have two Bronze☆☆ Siegers at the same time, for example, but you can have a Bronze ☆☆ Sieger and a Silver ☆ Sieger out at the same time.
A Primarch can only exist on the map when it has at least one Troop in its army–any Primarch with 0 Troops is wiped out and disappears/banished.
Primarchs are summoned at whatever castle is set to their Home.
Primarchs being summoned are still vulnerable to attack. Make sure your Home is safe from enemy Primarchs, or set it your Home to a Neutral region before summoning a new one.
Each Primarch belongs to a tier, with more powerful ones to be added in later updates. Currently, these Primarchs can be researched:
A trapper has the ability to disable a primarch's ability, movement, and forces them to attack the said trapper.
Once a trapper has "trapped" a taunter primarch, the taunter's ability is in a state of "Break" wherein their ability to taunt is disabled for the duration or until the taunter who's trapped is able to destroy 10% of the trapper's total troops.